According to a survey carried out by the Phytotherapy Research Centre, seven out of ten Spaniards claim to be more tired with the arrival of autumn. Apathy, loss of appetite, lack of energy, irritability and attention deficit also arrive with this season. Why does it happen?
The arrival of autumn means fewer daylight hours, a drop in temperatures, higher humidity, and frequent temperature changes, all of which results in the spread of viruses. And this year, we also have to contend with the threat of coronavirus, as well as colds and flu.
Bialoe, the drink that strengthens your defences with aloe
For all the aforementioned reasons, in autumn we must pay particular attention to taking care of ourselves and staying healthy. A healthy diet, regular moderate physical exercise and plenty of sleep are important and will all help our immune system to function well and be able to cope with viruses. To this, you can add Bialoe, the drink that strengthens your defences with Aloe vera.
Bialoe is made with Pure Aloe Vera juice extracted from the leaves of the organically grown plant. There are around 20 amino acids in Aloe vera, essential for protein retention, of which eight are vital for the body to function properly.
This plant also contains fatty acids that help to reduce blood fats and relieve indigestion; vitamins A, B and C, necessary to keep the body fit and healthy, as well as minerals such as iron and magnesium, among others.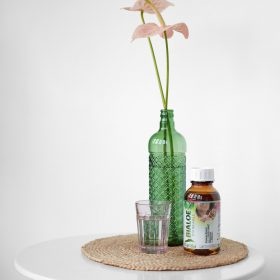 How Bialoe works for low defences
When we say it's the drink that strengthens your defences with Aloe, we mean that one of the main properties of this plant is that is boosts the immune system. It's truly effective for combating not only pathological germs, but also organic incidentssuch as flu.
Furthermore, consuming this plant helps our body to defend itself and adapt to situations ofphysical, emotional or environmental stress, such as those we are experiencing during this pandemic. It achieves this by stimulating the defence mechanisms needed to cope with them.
Taking Bialoe is very easy. Just follow the recommendations of the experts at Atlantia and add it to your morning routine.