Nevertheless, the dedication to keep a beard in its ideal form supposes a constant shaving that causes various sequels in the skin near the hair.
Shaving is the beauty routine par excellence of men's skin. It is an epidermis that clearly distinguishes itself from women's skin due to its superior thickness (24%), a considerable segregation of the hydrolipofic, lasting film, as well as a greater degree of elasticity and firmness.
Frequent shaving involves constant stress that damages the outer layer of the skin. This causes its vulnerability against external agents, like cold, sun, or air. Therefore, men need facial care that helps them to regenerate and heal the skin, whether before or after shaving.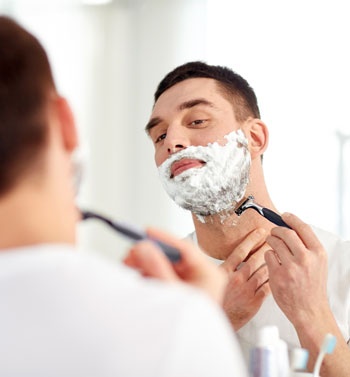 Before the blade
The most faithful and careful men know the importance of a proper preparation of the beard before shaving. Warm water helps to soften the area's hair, opening the pores. Especially when it comes to those of the famous subculture of young (and not so young) bohemians: the hipsters.
Hot water will help open the pores and soften the beard before shaving
In this sense, the essential eucalyptus or menthol oils and the exfoliation could be an alternative to grooming the most unmanageable beards, goatee, and mustaches.
Male skin recovery
We have reached the tipping point of men's beauty routine. That is that the recovery of the skin after shaving should be more precise than the preparation of it. The aftershaves with alcohol, or any other product with a high content of perfume, could be harmful to the skin, causing any unwanted reaction.
Aloe Vera becomes the best ally for the recovery of male skin after shaving. Thanks to the combination of a set of natural properties, the gel of the plant becomes a powerful moisturizer, regenerating and soothing the epidermis.
At Atlantia, we have the "Ultra Comfort" gel of the Line Man made with the purest Aloe Vera, which soothes and calms the skin after shaving. It is a gel with a soft and refreshing texture, of easy absorption, and paraben-free that leave the skin hydrated and relaxed.