From Atlantia, we want to help you to create an easy facial and body care routine with aloe vera so you don't have to see your whole year's hard work gone to waste in a week.
After a year of hard work and following a long beach-body plan, during this hot season our body is asking for a break. That's why when we leave the office and say-goodbye to our daily routine, we also forget about the beauty and eating ones.
Take note of the following tips and enjoy the summer without worries.
1.A toilet bag with the beauty essentials
Get your toilet bag ready with all the essential products to keep a basic hygiene and moisturising routine during your vacation.
The aloe vera Travel Set from Atlantia will cover all the daily grooming that your skin needs, so you can completely relax.
Our aloe vera travel set includes:
Moisturising Aloe Vera Bath Gel: The aloe vera bath gel deeply moisturises the skin, especially for dry and very dry skins. The high nutritive and regenerative power of Aloe vera protects the skin and gives it greater elasticity and smoothness. It respects the pH of the skin and it comes in 60ml format (2,0 Fl.oz).
Shampoo Normal Hair: Shampoo based on Aloe vera from the Canary Islands. Its washing base based on natural surfactants allows the hair to maintain its shine and balance. It respects the pH of the skin and it comes in 60ml format (2,0 Fl.oz)
Aloe vera moisturising gel: Refreshing and moisturising gel made from aloe vera. Its high concentration of Aloe vera provides excellent soothing action and extra protection. Does not leave greasy residue on the skin. Aloe vera has a high moisturising, regenerating and soothing capacity in sunburn, insect bites and skin irritation.
Aloe vera body moisturising: Fluid body moisturising milk based on pure Aloe vera from organic farming, without added water. Perfect for the daily care, leaving the skin soft and moisturised.
2. Caring habits under the sun with aloe vera
It isn't a complete holidays beauty care routine without a good sunscreen… so pick up the solar protection factor suitable for your skin type and apply it a few minutes before sunbathing. Complete the routine using Aloe vera After sun after the shower.
Atlantia's Aloe vera After sun nourishes, protects and regenerates the skin thanks to the combination of its active ingredients, as aloe vera has soothing and healing properties. It's also a highly refreshing lotion.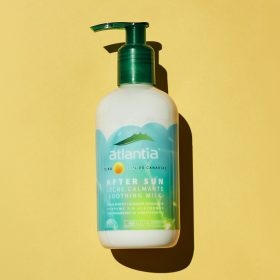 3. Light digestion thanks to aloe vera
With the change of eating habits during vacation it's normal that we feel more bloated. Our social life becomes more busy and with it, we tend to drink and eat more than what we are used to.
To avoid that feeling and get to fully enjoy the gastronomic pleasure that vacations bring to us, we suggest you to take Bialoe – aloe vera juice to drink. It will help regulate your digestions, making them much lighter. You can take it before breakfast, with some water or combined it with juice to get all its benefits.
If you finally make the decision to follow this aloe vera routine during summer, it will be easier to get back to your normal routine after the summer holidays. But remember that vacation is meant to be enjoyed.
If you want even more tips for the summer with aloe you can read the post: Why is it a good idea to use aloe vera during summer.