Throughout the year the facial skin reacts to external agents that accelerate its aging. Now in winter, cold and wind cause us dryness and irritation. A good routine with 100% pure Aloe vera, not from concentrates, can help us improve facial health and beauty.
The face needs daily cleansing to remove makeup and traces of impurities that builds up throughout the day and night. It is an essential step, which has to be completed thoroughly. The ATLANTIA Mousse Cleanser is the right product for your daily care, a foam enriched with 100% pure Aloe vera, which deeply cleanses the skin (does not contain soap), without irritating or drying it out. That is why it is suitable for all skin types.
And after cleansing, it is time for hydration. ATLANTIA Hydradetox combines its moisturizing action with its detoxifying properties. Its formula, with Aloe vera from the Canary Islands, avocado oil and vitamin E, also contains Ox-bioprotect. This antioxidant ingredient helps detoxify the skin from the harmful effects of environmental pollution. Use it in the morning. Its sunscreen SPF15 will protect you also from the winter sun and artificial light.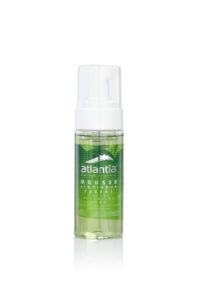 And don't forget your eyes. In the eye contour, the skin is more sensitive and it is exposed to constant gesticulation. Apply ATLANTIA Eye Perfect every day, an ideal formula capable of correcting wrinkles and expression lines. In addition, it is useful to prevent and reduce eye bags. Use it day and night.
The natural regeneration of the skin occurs during the night, while we sleep. That is why we need specific formulations such as Regenerage from ATLANTIA. It is a regenerating cream with alpha-hydroxy acids, with a strong moisturizing and regenerating effect. It fights against the aggressions that cause aging, like the effects of stress, pollution or sunlight. Apply it on clean skin at night, on the face and neck.