In addition, feet are the part of the body that works the most, since they support our weight and allows us to move while they absorb and amortize any impact that the body receives from the ground.
In Atlantia, we help you prepare your feet with aloe vera for this time of the year, giving you some recommendations to keep them healthy and hydrated.
Stomp with atlantia
The heat makes you expose your feet to surfaces with extreme humidity such as beaches and pools, facilitating the appearance of fungi and bacteria.
Also, external factors such as high temperatures, air contact or barefoot walking are common in the summer, and they can cause cracks and calluses on our heels.
In Atlantia, we offer you our Crema Reparadora para Pies which, thanks to its pure Aloe Vera juice safeguards and pampers your feet from the inside.
Its simple way of use is to apply the cream twice a day with completely clean and dry feet, performing a light massage until the complete absorption of the product.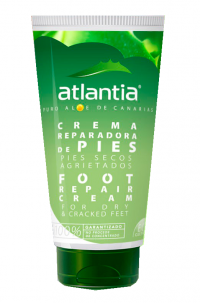 Healthy nails and feet
Our nails must have the same, if not more, care that our feet. Aside from keeping them healthy, we must moisturize them to avoid possible infections, keeping good hygiene, short fingernails, and wearing comfortable shoes. In this way, we avoid common problems in this area of the body such as "athlete's foot."
For this reason, our foot repair cream can be used as a preventive treatment to such conditions, applying it several times a day and with a light massage.
Thanks to the aloe vera in its composition, this cream manages to heal quickly the affected areas as it keeps them hydrated.
Choose the best aloe from the Canary Islands, and find our products for the comprehensive care of your body in our online store.