Maybe the problem is that you deny who you are today and idealize your future self. Maybe it's that your goals are built from the fear of changing who you are today. And fear, it paralyzes. And it prevents you from taking charge of yourself, your limiting beliefs and your emotional wounds.
Maybe the problem is not you but always doing the same: trying to change yourself instead of changing how you look at things.
We learned to love ourselves only if things went in the way we wanted. We learned that we needed to check some boxes and, only then, we could love ourselves.
We learned to look at our "flaws" like things that kept us from respecting and trusting ourselves, that they had the blame for our lack of self-esteem.
But NO. You don't love yourself in spite of them, but because of them. When you look closely at all the things that you don't like and when you embrace all what you had always rejected: your fears, your obsessions, your weaknesses and your flaws; only then, you understand that all together it makes who you are, but that they don't define you. They are only there, making you company while you keep making progress and evolving.
How can i love myself more? How can i know if i'm loving myself? How can I improve my self-esteem?
Prioritizing, taking care of yourself and taking action
Love can't be shown only with words, it's now sufficient and we need to be consistent in how we act. Self-esteem doesn't consist in nice thoughts or motivating phrases, but in holding yourself when all your thoughts are against you,
And please, stop comparing yourself. You don't need to reach a certain place nor pass the self-esteem test. Respect your moment, your process and your time. Making yourself company without judging. Cheering yourself instead of punishing you. The important thing is not the road, but how you undertake every step you take.
It's also important to value the actions and decisions that make you feel better, because it's also part of loving and taking care of yourself. Spending time with friends, eating something delicious and healthy, rewatching that movie that you loved, hugging your grandmother, taking a walk, looking at yourself naked in the mirror, going to psychotherapy, singing in the shower, laughing and dancing as if nobody was looking. They are all little acts that can help us connect with ourselves and let us be.
It's exhausting being so hard on ourselves and wanting to be perfect.
Accept who you are, embrace what makes you unique. You inhabit a beautiful body and you are enough.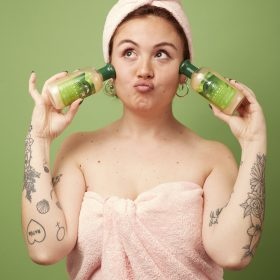 Indulge yourself with aloe
In Atlantia, our main goal has always been to give you the tools so you can take care and pamper yourself, inside and out. As well as insisting in the benefits of getting the time to dedicate only to you and your body, your precious temple.
In order to turn every moment you invest in yourself into the most nurturing and pleasant possible, we want to suggest you some of our aloe vera products with the goal to give you all the love from head to toes.
First of all, we have the Superdefense, an hydrating and repairing aloe vera cream for the face and body. It soothes and deeply nurtures the skin and reinforces the natural defense systems of the skin. Enriched with shea butter and avocado oil, the vitamin E has an antioxidant action. Ideal for very dry and devitalised skin.
These are some of the extra help that we want to bring to you so you can include them in your daily routine with the end goal of getting used to consciously taking care of yourself with simple actions such as cleaning our face or taking an aloe vera shot. So we can love ourselves more and better.