The truth is that the well-known stretch marks, which are nothing more than breakages of elastic skin fibers at the cellular level and cicatrizal appearance that cause loss of collagen and elasticity in the skin, are more common than we think.
Considered as an aesthetic problem, it is present in men and women, in any part of the body and as a consequence of factors such as hormonal changes, rapid muscle development or inheritance.
Combine avocado and aloe vera
The combination of these two elements is a very good alternative to eliminate annoying and unsightly stretch marks. Both skin regenerators and highly moisturizers are able to protect the skin against external agents.
In addition, both are antioxidants and stimulate the production of collagen, one of the major substances that are lost over time and years.
The truth is that there are many cosmetic products designed for the reduction and even total disappearance of stretch marks, but the use of natural cosmetics means, in the long run, a greater benefit and results for our skin.
At this point, aloe vera stimulates not only collagen but also elastin, preventing its early appearance. It also improves the appearance and tone of the skin, giving a feeling of healthy and hydrated skin.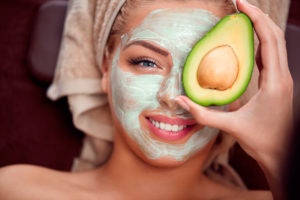 How to complete the treatment?
From Atlantia we recommend one of our star products for this type of treatments, ideal for moisturizing, softening and relaxing the skin of the body.
Body moisturizing milk, which does not alter the pH of the skin and strengthens the natural defense system of the skin. With a light massage on the affected areas until the complete absorption of the product, will gradually recover the lost elasticity.
In addition, in its composition contains these two star ingredients, avocado oil, with fatty acids beneficial to the body and aloe vera, grown under the sun of the Canary Islands.
Regardless of cosmetic care, there are a number of recommendations to complete the treatment against stretch marks. Drinking water daily, carrying a high protein diet or maintaining an exercise routine are a few to keep in mind.