The truth is that although we cannot stop the life cycle, there are methods that prevent its occurrence or, if it is too late, help to reduce its impact.
How does cucumber work on the skin?
It is well known that cucumber has beneficial properties for the organism. It is important to emphasize that this vegetable is 97% composed of water, which translates into an extra hydration for our body.
In addition, its photochemicals help to keep the collagen intact and prevent orange peel thanks to ingredients such as natural oils, minerals and vitamin E in its composition.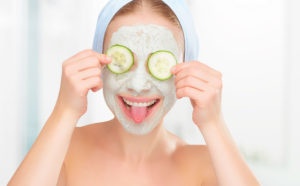 Forget the flabbiness
The cucumber is part of the set of foods that are usually used in beauty rituals thanks to its toning and regenerating properties.
Flabbiness, a consequence of factors such as age, weight loss or poor diet, can be controlled by regular physical exercise, but also by the consumption of cucumber, made up of antioxidants that stop free radicals that affect the skin.
Combine with aloe vera
To complete a moisturizing routine, from Atlantia we recommend our Moisturizing Milk, which in addition to calming the skin, gives it extra protection, to avoid flabbiness, among other benefits.
Its formula does not alter the skin's pH and leaves greasy residue on the skin. It also strengthens the skin's natural systems and should be applied after taking a bath, massaging gently until completely absorbed.
With aloe seeing ecocultured, avocado and helianthus in its formula, hydrating milk is the best choice. In addition, this product has no parabens or perfumes, which makes it an excellent natural product.