Aloe vera from the Canary Islands has a number of unique conditions (warm, arid and breezy environment) which make the plant's crops one of the best in the world.
On most of the southern islands you can enjoy plenty of hours of sunshine throughout the year, stable temperatures, very few rainfalls and constant trade winds. Some advantages cosmetic items from China, Pakistan and India take advantage of, camouflaging themselves on the market with "Canary Island branding". In fact, the products masquerading as Canarian Aloe vera amount up to 21 million euros thanks to deception.
Aloe vera deceptive products earn up to 21 million euros
These fraudulent products boast 100% Aloe vera from the Canary Islands, whose labeling show a clear discrepancy: there is no trace of information about the manufacturer. Even when using the product, from the outset it feels like a standard cream.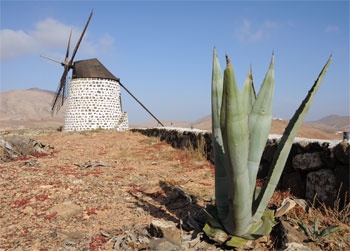 Association of manufacturers of canarian aloe vera products
That's why, after several years of fighting against this situation, Canarian manufacturers have reunited for the purpose of establishing the Association of Manufacturers of Canarian Aloe vera Products (AFAVECAN)
A low cost initiative to crack down on the counterfeiting of conventional products, especially intended for the millions of tourists who visit the Archipelago each year. The aim of the association is to make Aloe vera a product unique to the Islands.
The Minister of Industry of the Canary Islands Government, Pedro Ortega, has asked for collaboration from the tourism sector, with the aim of promoting the authentic Aloe vera from the Canary Islands. Ortega believes that this product is "a way of helping to diversify and increase industrial development and to generate skilled employment on the Islands", which between direct and indirect jobs, employs about 600 workers on the Canary Islands.
He further concluded that "the processing and manufacture of products with this plant offer a wide range of possibilities for the Canarian industries of high value-added that also generate specialist jobs and R+D".