We renew our online store
Desde Atlantia hemos apostado siempre por el aprovechamiento tecnológico como vía de alcance de nuestros objetivos principales. Un desarrollo vital enfocado tanto a nuestro proceso de elaboración (cultivo, recolección, extracción y prensado, filtración y estabilizado en frío, elaboración y envasado) como, en esta ocasión, a la facilidad de consumo.
At Atlantia we have always been committed to technological performance as a way to reach our main goals. A vital development focused as much on our elaboration process (cultivation, harvesting, extraction and pressing, filtration and cold settled, processing and packaging) as, on this occasion, ease of consumption.
With the guarantee of a greatly experienced laboratory, whose beginnings date back to the brilliant idea of two pharmacists and an entrepreneur in the year 2000, at Atlantia we are renewing our online store, integrating new channels of communication with our customers. In addition, we are improving basic information requested by all those lovers of the basic properties of the Canary Islands most famous succulent plant: Aloe vera.
Adaptation to mobile devices
Simplicity in the use of our newly released web (usability) and adapting navigation to mobile devices (smartphones, tablets…) are some of the improvements carried out in the face of our prosperity in the sector.
Furthermore, we implement innovative means of payment, such as the Paypal Atlantia payment service; international leader in Internet payment solutions, backed by various buyer protection policies.
From our team of professionals, it is essential that our customers (current and future) are aware of why to choose Atlantia as a leader in natural cosmetics. Hence, the idea of launching a blog where we can disclose our own knowledge about the "Aloe vera world", health and welfare in general, and in turn, publicise and explain why the peculiarity of our unique product (pure Aloe vera cosmetics).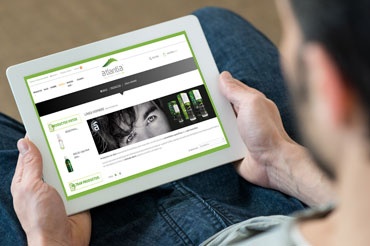 Our offers and packs
In addition, we will launch periodic offers of our Atlantia products from which you can benefit using our online store. Including different packs with which you can fully enjoy all the advantages of our products backed by the best quality on the market.

Do you still not know the Atlantia products made with the best Aloe grown in the Canaries? Take a look at our new website and discover the purest Aloe vera just a few clicks away.