Aloe vera and radiation therapy: How it helps prevent and treat side effects
Bialoe is a drinkable Aloe vera that's very effective in treating heartburn and stomach ulcers. But it's also an adjuvant for the prevention and reduction of oesophagitis (inflammation of the oesophagus) and mucositis (inflammation of the mucous membrane). Both are common side effects associated with radiation therapy for cancer patients. We'll tell you more about Aloe vera and radiotherapy.
Medical specialists advise drinking Bialoe for the prevention and treatment of oesophagitis and mucositis. Its benefits have been statistically proven in a multicentre study carried out in multiple hospitals. Participants in this research were cancer patients undergoing chemoradiotherapy for locally advanced lung cancer. A portion of them were given drinkable Aloe by Atlantia while the rest were given a placebo.
The study confirmed a clinically positive action of Bialoe for the prevention and/or improvement of oesophagitis development. It was found that its ingestion has a significant impact on various aspects of the symptomatology, and especially on the patient's quality of life.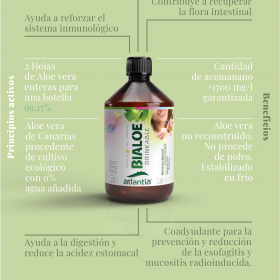 The findings of the study on Aloe vera and radiotherapy were presented at the recent World Congress on Lung Cancer (IASLC 2020 World Conference on Lung Cancer | Singapore, Worldwide Virtual Event). It was a virtual event in which pulmonologists, radiologists, pathologists, thoracic surgeons, medical oncologists, and radiation oncologists from all over the world participated. The latest news and advances in the study, diagnosis, and treatment of different types of lung cancer were announced at this congress, including the efficacy of Bialoe in cancer patients.
What is Bialoe?
Bialoe is a drink produced by the Atlantia company which contains Aloe vera grown in the volcanic soil of the Canary Islands. This gives it unique characteristics in its concentration of active therapeutic ingredients. In addition, a complex brewing procedure is used to create an Aloe vera juice that's 100% pure.
Bialoe is now available in new 100% recycled and recyclable packaging. The opaque amber colour of the bottle helps protect the product from sunlight and better preserves its properties. The new 10 ml measuring cap is easy to use. We recommend drinking 20 ml of Bialoe every morning before breakfast, alone or mixed with a glass of water or juice. If used for treatment, 60 ml daily is recommended, distributed in three doses, without mixing with other liquids.