The main factors of skin aging are age, fatigue, poor nutrition or the absence of physical exercises, but if we talk about the physiological differences between men and female's skins, we can determine that the thickness, firmness, and Sebaceous secretion are different.
At Atlantia, we offer an exclusive line for men; pure aloe vera products designed for the care of the skin with soothing, moisturizing, and regenerating assets.
After-shave, anti-ageing, and anti-fatigue
After shaving, the skin tends to lose its moisture and it dries out, causing an aggressive effect and, sometimes, irritation and redness.
For these cases, Atlantia's Ultra Comfort Aftershave is ideal for cooling and relieve shaved areas, as well as to keep them hydrated. In addition, its minerals-lysine composition produces collagen and helps repair the skin.
On the other hand, we offer Active Energy, a leading product ahead of nature, since it conceives an anti-aging formula, which prevents aging and provides elasticity to the skin (avoids the appearance of a tired and weary face).
As a complement to this routine for facial care, Atlantia offers Acti Energy Eyes, a product that prevents and reduces lines and wrinkles of expression in the contour of the eyes, a very sensitive and, most of the time, forgotten area of the face.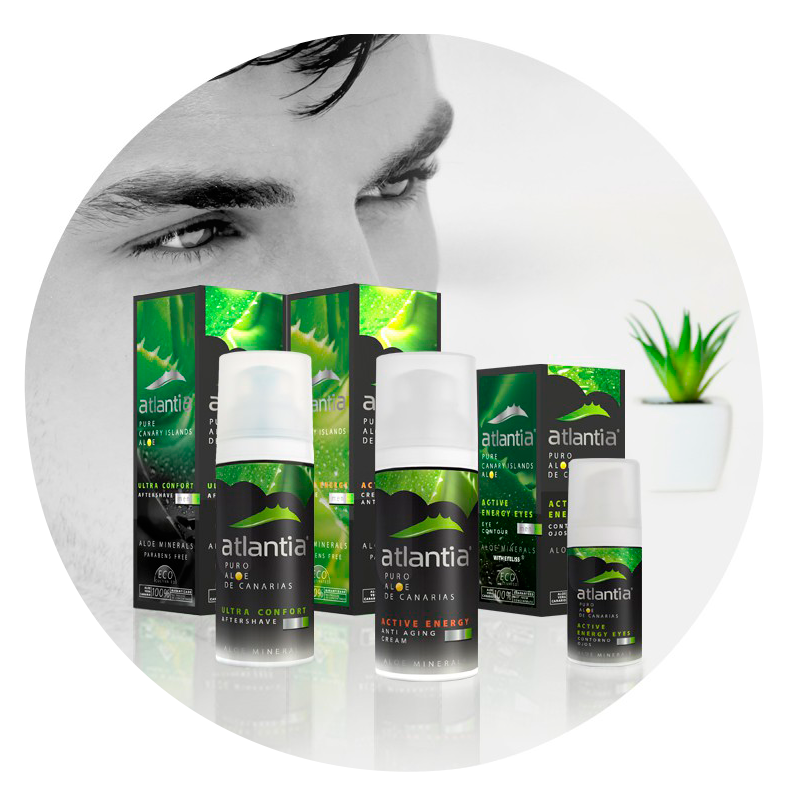 Daily care
Without a doubt, the use of these pure aloe vera products guarantees a smooth and healthy skin thanks to the properties of the plant, which prevents the signs of apparent fatigue and dull skin.
This set of facial cosmetics is completed with the pure aloe vera gel, which gets the best results to keep the skin healthy and hydrated.
Get your Atlantia's products in our online store and start to take care of yourself with the best options.