This isn't the news and we all know what we are talking about: surprises don't end and some are quite surrealistic. Even if it's a new year, we haven't yet invented an emergency button to push on January 1st and reset the actual world situation to leave the chaotic 2020 behind. So the only thing we can do is keep going like we've been doing, together, so we can get past this situation soon.
However, what we should never end is our skincare, especially during this frosty winter. The cold will still be present for a few more months and we don't want our skin to pay the consequences. We already explained in this post how the low temperatures affect our epidermis, so we are going to try our best to protect and take care of the skin.
On the other hand, we have just passed the Christmas, and even if the past year hasn't been much for partying, we haven't renounced to the food excess… We still have to indulge ourselves! The thing is that our skin pays the price and surely most of us have already seen it reflected in our face. It's for this reason that, on top of the products we recommend, from Atlantia we insist in the importance of a balanced diet and a good hydratation, as taking care of our body from the inside is necessary in order to look healthy on the outside. By the way, an excellent booster to help our immune system to recover is Atlantia's aloe vera juice, Bialoe, which we are going to talk about later.
It's also really important, and we constantly repeat it, that we don't forget to use sun protection. It's common to think that, in winter, due to the grey days and all the clothes we are wearing, it's not necessary to use sunscreen on the face but it's a big mistake.
With that said, we know that every person is a world unto themselves and every skin is different and has its own, specific needs. In the same way that someone uses ten different products for their daily routine, others just need three. That's the reason why we've wanted to create a complete list of all the essential Atlantiaproducts, so you can give to your skin everything it needs.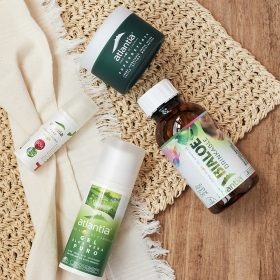 Your facial routine essencials
Pure Aloe Vera Gel. From organic farming, the aloe vera juice is extracted directly from the plant leaves'. Is a product for the comprehensive care of the skin, with hydrating and soothing properties, also helping in cellular regeneration. It can be used as a serum, before applying moisturizing cream. Repairs damaged skin, fights acne and cleans the skin.
Regenerage, the anti-ageing cream with aloe vera fights the multiple agressions that accelerates the aging, as pollution, stress or the sun, at the same time that prevents wrinkles and expression lines. In addition to aloe vera, it also contains alpha hydroxy acids, avocado oil, shea butter and glycolic acid
Eye perfect, the eye contour cream with aloe vera. It helps prevent wrinkles and reduce eye bags, improving skin's firmness, elasticity and moisturizing.
Hydradetox FP15.This aloe vera facial cream has protection factor against UVB and UVA radiation, which are the main sources of cutaneous photoaging. It hydrates and repairs the skin intensely, at the same time that detoxifies it from the harmful effects of environmental pollution and improves skin brightness.
Facial Mousse with aloe vera.Cleanses the skin from impurities, brings back skin's shine and freshness, provides minerals, amino acids and vitamins with moisturizing effect and it also has regenerating action of the tissues. It doesn't contain soap, so it doesn't dry the skin.
This year we need to take care of ourselves more than ever and continue being responsible for ourselves and for others. From Atlantia we'll do our best to make it this way, with the goal to pamper your skin with the best of the best.
Happy new year and a lot of Aloe vera for everyone!