Why does he show up acne?
Acne is considered a disease that affects the sebaceous glands of the skin. Although it does not cause pain, in many occasions it becomes a nightmare for those who suffer from it because it can occur chronically, leaving scars and may even affect esthetics.
The causes of acne onset are varied. Although it may appear due to stress, pollution, poor diet or bad cleaning and hygiene habits, in most cases it is linked to hormonal changes, which causes an imbalance in the activity of the sebaceous glands.
Natural antibiotic
One of the remedies for this condition is honey, considered one of the most effective natural antiseptics for skin care. With a cleansing action, it cleanses the pores of the face, prevents the appearance of new bacteria and gives rise to acne-free skin.
Rich in vitamins, minerals and antioxidants, its compounds protect against external aggressions and reduce aging in the long term.
Honey has beneficial substances in its composition, including fructose, glucose or alpha-hydroxy acids. All this results in revitalized, soft and moisturized skin, as well as helping to maintain the skin's moisture and elasticity.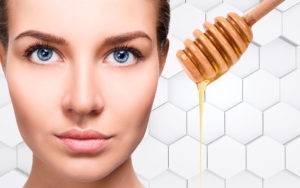 Three products, three tips
From Atlantia we recommend you to finish those annoying granites with a variety of products that will help you in skin care.
Mousse Cleanser: Contains no soap and is ideal for deep cleansing of facial skin. It can be used twice a day and is suitable for all skin types. Cleansing will prevent acne from appearing as it purifies the pores and keeps them cleaner.
Bialoe: natural well-being that cares for our body from within. With a large amount of acemannan in its composition, our aloe vera set is ideal for strengthening the skin's natural defense systems.
Pure gel: pure, natural and without added water that helps to care and pamper the skin of the body. It will keep the skin moisturized and nourished while soothing and fresh, ideal for the irritations that acne can cause.